The use of rodenticides to control pest rodent infestations involves serious risks for humans, non-target animals and the environment. The operation of Ekomille does not require the use of toxic baits and poisons. Using natural food substances as attractants and keeping the carcasses in the bucket, the device guarantees rodents extermination 100% ecological.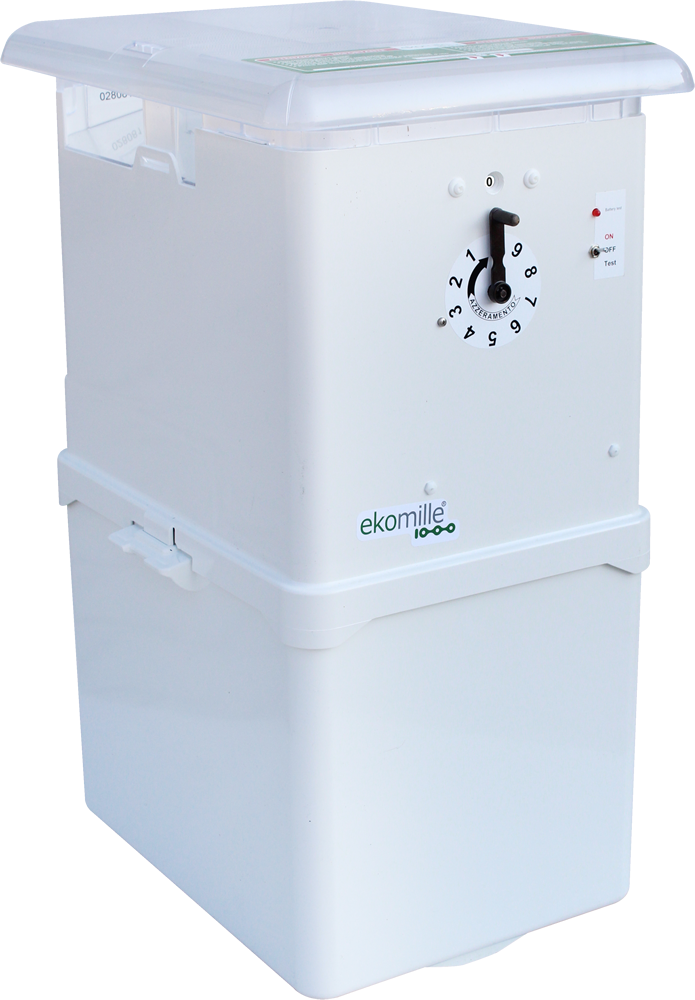 The device is positioned off whitin the infested area.
The "explorer" rodent, are attracted by the food baits positioned in the bait compartments and in the manger.

Once checked the device and no danger is found, the "explorator" rodent mark the way, and define Ekomille such the new refreshment point for the colony.

This first stage is essential. It is therefore important to choose the most suitable attractants based on various factors such us: rodent species, level of infestation, environment to be reclaimed.

Once the exploration phase of the "explorer" rodent has taken place, the operator can turn on the Ekomille which transforms from a bait dispenser into a capture device.

After switching on the device, whenever the target pest tries to feed from the central feeder, it actives the electromechanical mechanism and the capture takes place.

The rodent carcasses are confined within the lower section of the device. The non-dispersion of the same preserves the environment from the risk of contamination
Ekomille was born as a capture system. Suppression, in fact, is an optional choice of who owns the equipment. Its integrated mechanics, without adding any liquid inside the tank, allows you to capture weeds which, at a later time, can eventually be released into nature. On the other hand, when the device is used as a suppression tool, the death of rodents, unlike traditional rodent control systems such as rodenticides, glue traps, occurs in a few minutes and is almost painless.
Do you need more information?
Electromechanical devicefor the management of pest rodents
– Plastics (ABS, PP, PPS)
– Brass
– Stainless and stainless steel
– Electronic components
– Rodent control in agri-food companies
– Hospitals & Schools
– Public places
– Outdoor areas in general
– Transformer room and technological rooms
– Sensitive areas
– Rat (Rattus norvegicus)
– Black rat (Rattus rattus)
– Mouse house (Mus musculus domesticus)
High primimg with natural food
Zero use of chemicals
No dispersion of carcasses
Safe for food, non-target animals and children
Automatic counting of the captures
Able to make alive captures
Easy maintenance
Odor control function, thanks to the liquid Ekofix 100
Natural kit bait Ekofood 100 (code
APGR03) and shovel (code APG023)
Gloves and waste bag
Enter the world of
Ecological Rodent Control​
Fill out the form with your details and you will be quickly contacted